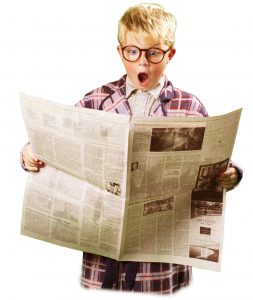 "Amazing! Hilariously entertaining! The greatest gift you can give your eyes and ears this pre-holiday season." –
Albuquerque To Do
"A twinkling Christmas delight!" – Broadway World St. Louis
"Spectacular! – Valley Scren and StageEast Valley Tribune

"Musical comfort food!"  – Tulsa World
"Brilliant! The kind of show musical aficionado's and novices can fall in love with!" –
"Very funny…Impossible to resist." – San Francisco Chronicle
"Fantastic! Pure heartwarming!" -Talkin' Broadway
"Spectacular! Make sure to catch this show! –V Media Backstage

"Outstanding songs, including big, Broadway production numbers…a holiday stage classic for the entire family." – Joint Forces Journal
"Emotionally touching and fun to watch – a perfect start to the holiday season." – The Column Dallas
"If you find yourself at a loss for where to celebrate the joy of Christmas this holiday season, have no worries. It's 'Ralphie to the Rescue'" – The Flash List Dallas
"This heartwarming show reveals itself as the gift it is." – The Riverfront Times
"The musical is silly, fun and sentimental. When it was over, I was filled with the Christmas Spirit and hungry for Chinese food." – Playback St. Louis
"If you're looking for a fresh holiday outing that will delight all ages, look no further." – Broadway World
"An imaginative, hilarious world of feelings that the characters express in joyous motion." – St. Louis Post-Dispatch
"The set sparkles and the cast is talented and appealing." – Dallas Morning News
"This exuberant stage production is like a Norman Rockwell painting brought to life." – Broadway World
"The story is funny and zany and touching and nostalgic and clever." – WeAreGreenBay.com
"…smart and hilarious." – Fort Worth Star-Telegram
Caroline Sposto, Broadway World Memphis:
Thanks to the sensibilities of director Matt Lenz, this show moves with high energy and snowball-style momentum, delivering a tour de force of guaranteed crowd pleasers at every turn–trained dogs, splashy, over-the-top dance numbers,(coreography by Warren Carlyle), nonstop costume changes, (designed by Elizabeth Hope Clancy and adapted for the tour by Lisa Zinni) and an impressive ensemble full of talented kids.
Mark Lowry, Fort Worth Star-Telegram:
You know what happens to beloved movies when they're turned into musicals, right? Usually not so good. So it's a pleasure to report that A Christmas Story, the Musical, now making its area premiere opening the 75th anniversary season of Dallas Summer Musicals, bucks the trend. It's a smart and hilarious take on not just the movie, but also on the autobiographical Jean Shepherd stories the movie is based on.
Emily Scharf, Playback St. Louis
This musical is silly, fun, and sentimental. At certain points, I found myself laughing out loud. When it was over, I was filled with Christmas spirit and hungry for Chinese food.
Chris Gibson, Broadway World St. Louis:
The musical is a twinkling Christmas delight, with pleasant and lively numbers that aim to enhance key moments that you'll recall from the original. This is fun for the whole family.
Judith Newmark, St. Louis Post-Dispatch:
"A Christmas Story: The Musical," draws on director Matt Lenz's ensemble of first-rate juvenile performers to bring Jean Shepherd's Christmas stories to fresh young life.
Broadway World Memphis Review by Caroline Sposto:
This exuberant stage production is like a Norman Rockwell painting brought to life. Set in Hohman, Indiana in 1940, raconteur, Jean Shepherd (Chris Carsten) reminiscences about nine-year-old Ralphie's obsessive wish for an official Red Ryder, Carbine-Action, 200-Shot Range Model Air Rifle B-B gun.
Based on the iconic 1983 film, and adapted by acclaimed librettist Joseph Robinette this version is heavy on well-crafted exposition. Most audience members, being familiar with the film, know what's coming, and that group dynamic–as in the case of most beloved holiday season traditions–makes this sleigh ride all the more fun!
Served up with generous dollops of nostalgic, tongue-in-cheek Americana, this tale rests on the bittersweet inner workings of a perfectly imperfect depression-era family wintering through the last innocent, pre-WWII yuletide.
Though I wasn't around in the 40's, I'm old enough to remember a time when America's working class had a far more solid foothold in our country, and that alone made this portrayal tug at my heartstrings.
Thanks to the sensibilities of director Matt Lenz, this show moves with high energy and snowball-style momentum, delivering a tour de force of guaranteed crowd pleasers at every turn–trained dogs, splashy, over-the-top dance numbers,(coreography by Warren Carlyle), nonstop costume changes, (designed by Elizabeth Hope Clancy and adapted for the tour by Lisa Zinni) and an impressive ensemble full of talented kids. As with most musicals, some characters serve as foils or devices, while others are have more dimension. That said, each performer in this highly-skilled cast exudes a memorable charisma and inhabits his or her role in earnest. This well-cast tale, told in a retrospective universal "I" (the wiser adult explaining how the world looked through his youthful eyes) speaks to all of our idiosyncrasies, loyalties, dreams and delusions.
Due to the demands of Ralphie's role, two veteran child actors (Colton Maurer and Evan Gray) perform on alternate evenings. (I happened to see Colton Maurer. Bravo!) Ralphie's parents are played by Chrisopher Swan and Susannah Jones, who delivers an exceedingly poignant and believable performance.
The tangential momentum of this yarn requires a never-ending transition in mood and setting. Walt Spangler's scenic designs (adapted for the tour by Michael Carnahan) transport us without fail, enhanced in no small part by exquisite lighting design (created by Howell Binkley and adapted for the tour by Charlie Morrison.)
My only misgiving about this particular musical is that, while it delivers several clever showstoppers (most notably "Ralphie to the Rescue" and "A Major Award" – about the leg lamp), it never reaches a musical zenith. Just as most great plays have a signature monologue, most great musicals have a signature song, but nothing in this show made the grade. (I didn't walk out humming a tune, or with any desire to buy the sheet music or soundtrack.)
That said, if you're looking for a fresh holiday outing that will delight all ages, look no further. Not sappy, cynical or shamelessly commercialized, A Christmas Story, The Musical makes for delightfully wholesome family fare.
A Christmas Story, The Musical runs through November 30 at The Memphis Orpheum, 203 South Main Street. For more information call (901) 525-3000 or visit The Memphis Orpheum website.
WeAreGreenBay.com Review by Warren Gerds:
 American musical theater is quite the invention. Take "A Christmas Story." The movie has been around since 1983, and some fans know it by rote from having seen it year after year (after year after year after year). To make a stage musical out of the indelible movie seems foolhardy. So many vivid scenes. So many beloved lines, jokes, phrases, situations. So much ingrained in the minds of a broad swath of the populace. As I was saying, American musical theater is quite the invention. The makers of "A Christmas Story, The Musical" retain much of what happens in the movie and add to it. Song and musical theater have a way of multiplying the human experience, and this show is an example of a stage musical enhancing a movie (which is not always the case).
A touring production of "A Christmas Story, The Musical" is at the Fox Cities Performing Arts Center through Sunday, Nov. 23. Info: www.foxcitiespac.com. It's a fun production, a fine production. The story is funny and zany and touching and nostalgic and clever.
The illusion is that Jean Shepherd, the storyteller who wrote the story, is telling the audience the story of a Christmas in the 1940s when he was a kid. Jean Shepherd is Ralphie in the show. Ralphie's life – existence – turns on his receiving a Red Ryder BB Gun on this Christmas. The character of Jean Shepherd (played with zest by Chris Carsten in the performance I saw) weaves in and out of the action as narrator/commentator. Ralphie (the spunky Colton Maurer in the performance I saw) tries every ploy he can think of to lure his parents into getting him the gun. Each time, he hears the refrain, "You'll shoot your eye out!"
One of the impressive things about the production is the number of kids in the cast. I counted 12 – Ralphie, his brother, Randy, and their mixed bag of schoolmates. They sing and dance and act up a storm as young pros. Seth Judice, who plays Grover Dill, the bully's buddy, is a tap-dance whiz. To put "A Christmas Story, The Musical" on the road takes an extra commitment to carrying a youth cast.
Key additions to the movie come through Ralphie, The Old Man (Ralphie's father) and Mother. The gun-totin' heroics of Ralphie are blown to kid-imagination proportions as he foils villains and rescues damsels (in showcase song and dance). The Old Man (the energetic Christopher Swan) is a delight as he reaches for a dream in "The Genius of Cleveland Street" and then relishes success in "A Major Award," winning a lamp made of an alluring woman's leg. Mother (the warm Susannah Jones) defines a housewife's role in the ''40s in "What a Mother Does" and is elevated to a profound level of knowing in "Just Like That" (rich moments in life pass).
Many songs tell something from the movie story, then flesh out what happened. One example: The Old Man wins the award. He's ecstatic in the movie. In the musical, the scene is blown up to where he is dancing, while holding a leg lamp, with eight ensemble members, each with a full-size leg lamp, and eight youngsters from the youth cast, each with a kid-size leg lamp. Along the way, there's a kick line with dance kicks from real legs and also the leg lamp legs. Great comic stuff from American musical theater, which is quite the invention.
The Flash List Dallas Review by Sherri Tilley:
Once upon a time, there was a really spectacular cast assembled to perform in the very first production of Dallas Summer Musicals' 75th anniversary season (that's show #11,623 in case you're wondering). And perhaps it's just a touch of holiday sentimentality on our part, but every single member of this touring cast seems to be right on point and delightfully even better than expected. Based on the classic 1983 movie and nominated for three Tony Awards®, the musical version of A Christmas Story is now running at the Music Hall at Fair Park.
Set in another time and another place (1940's Indiana on Cleveland Street), a 30ish-foot snowcapped doll-type house glides forward amidst a wintery snow-globe-inspired stage design. And from there unfolds the heartwarming tale of a young boy's Christmas quest to acquire the gift of his dreams, a coveted Red Ryder® carbine-action BB gun.
On opening night, Paper Mill's Colton Maurer was outstanding in the iconic role of nine-year-old Ralphie Parker (alternately played by Evan Gray). Saturated with impressive star-power potential, Maurer's strong voice and remarkable stage presence certainly shine a bright light on his professional future in musical theater.
Actor Chris Carsten narrates as radio personality Jean Shepherd (in an entertaining 'Alton Brown crosses Mr. Carlson from WKRP in Cincinnati' kind of way), while Christopher Swan elicits laughs as Ralphie's dog-dodging, furnace-fighting Old Man whose intensely competitive nature is offset by his satirically-sexy faux-cabaret moves. With a voice as sweetly comforting as the character she plays, Susannah Jones gives a charming portrayal of Ralphie's mother … even when resolutely pitching in her two cents to the overall anti-gun consensus that "You'll shoot your eye out kid!" Cal Alexander is perfect as little brother Randy, especially with all of his "aahh mom" attitude, petulantly repeated "did naht"s, and puffy-snowsuit-clad "I've fallen and I can't get up" dilemma.
Ralphie's fellow wimps are comprised of a slew of pint-sized child actors including two area students (12-year-old Grace Moore and 10-year-old Peyton Nicholson) who were chosen by choreographer Jason Sparks at local auditions to appear during the tour's Dallas run. Avital Asuleen as Miss Shields joins a tux-clad all-kiddo ensemble in performing a particularly 'dazzly' tap dance number which ironically takes place at a makeshift speakeasy.
So if you find yourself at a loss for where to celebrate the joy of Christmas this holiday season, have no worries. It's "Ralphie to the Rescue" with high-action nostalgic entertainment complete with bully-inspired flagpole-lickin', pink-bunny pajama-wearin', leg-shaped lamp-breakin', and more outrageous shenanigans right up until … the end.